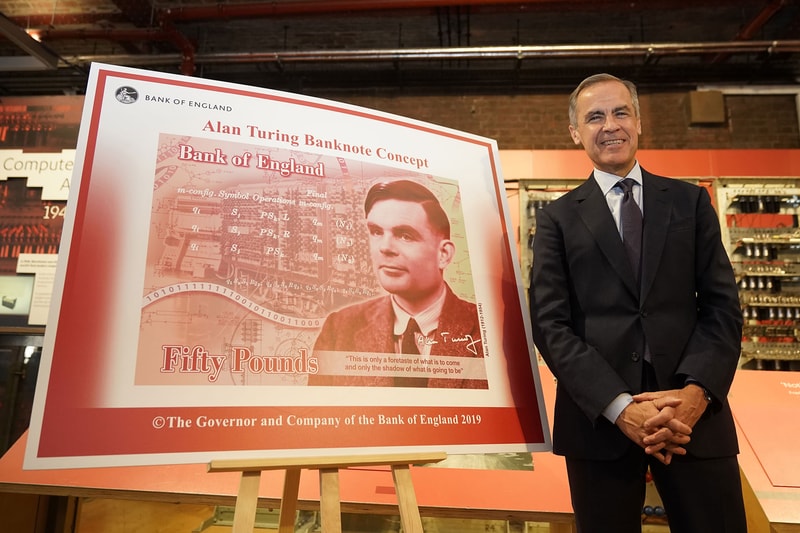 Mathematician Alan Turing, who cracked the Enigma code and was persecuted for his homosexuality in the 1950's, has been chosen to feature on the new Bank of England £50 GBP notes.
Turing, who was portrayed by Benedict Cumberbatch in The Imitation Game, cracked the Enigma code during the second World War, which helped to fend off treating German U-boats in the Battle of the Atlantic. He also helped to pioneer the modern computer. The mathematician was chosen out of a list of almost 227,299 nominations and was announced by the Bank of England's governor, Mark Carney.
Carney said on Monday, "Alan Turing was an outstanding mathematician whose work has had an enormous impact on how we live today. As the father of computer science and artificial intelligence, as well as [a] war hero, Alan Turing's contributions were far ranging and path breaking. Turing is a giant on whose shoulders so many now stand."
The Bank also acknowledged Turing's pivotal role in the development of early computers, first at the National Physical Laboratory and later at the University of Manchester. "He set the foundations for work on artificial intelligence by considering the question of whether machines could think," the Bank said. "Turing was homosexual and was posthumously pardoned by the Queen, having been convicted of gross indecency for his relationship with a man. His legacy continues to have an impact on both science and society today."
Alan Turing will appear on the £50 GBP polymer note when it goes into circulation starting in 2021.
Those who were also short-listed for the £50 GBP note include, Mary Anning, Paul Dirac, Rosalind Franklin, William Herschel and Caroline Herschel, Dorothy Hodgkin, Ada Lovelace and Charles Babbage, Stephen Hawking, James Clerk Maxwell, Srinivasa Ramanujan, Ernest Rutherford, and Frederick Sanger.
In related news, earlier in June the Harriet Tubman $20 USD bill design leaked.
Click here to view full gallery at HYPEBEAST