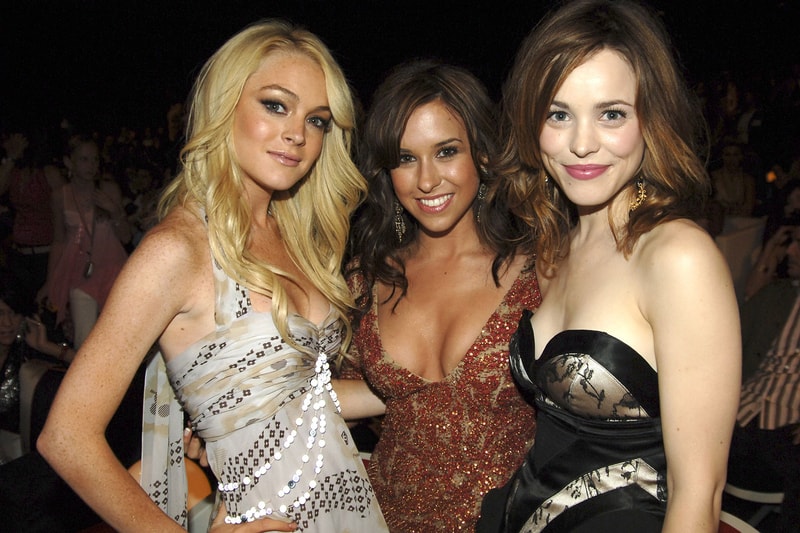 Believe it or not, the 2010s are already coming to an end and we'll soon be entering the third decade of the 21st century. While we love styles from the 1960s to 1990s, 2000s fashion have definitely become more popular in the recent years, with items like Paris Hilton's Von Dutch Trucker caps making a comeback.
To give you some style inspo, we've rounded up the best '00s movies with styles that can be "fetch" again. From Coyote Ugly featuring Tyra Banks and Our Lips are Sealed with the Olsen sisters, to iconic films Mean Girls, Legally Blonde and The Devil Wears Prada, this list will give you major nostalgia to when Juicy Couture's velour tracksuits were cool.
Scroll down below to take a full look. For more retro styles, take a look at these '90s and '00s brands that deserve a legit revival this year.
Coyote Ugly (2000)
Can you believe it has already been 19 years since Coyote Ugly was released? Regardless, the film features some of the best styles that could even be worn today. Key fashion items range from snakeskin and bootcut pants, to cowboy belts and spaghetti-strapped tops.
Our Lips are Sealed (2000)
In one of the most iconic teen movies, Ashley and Mary-Kate Olsen sported items like graphic tees and oval sunglasses. Now the creative directors of their label The Row, it seems like the star twins really got into fashion through the films they starred in, including Passport to Paris and Switching Goals.
Legally Blonde (2001)
Bend… and snap! Elle Woods, played by Reese Witherspoon, wore some of our favorite pink outfits from her Halloween bunny look to sunglasses, leather jacket and skirt for her first day at law school.
Crossroads (2002)
If you re-watch this film, you'll realize that many of Britney Spears' styles are actually seen around today. She sports bucket hats, denim jackets and crop tops in the best retro-style possible, while Zoe Saldana pairs strapless tops with jeans.
Confessions of a Teenage Drama Queen (2004)
One of Lindsay Lohan's most iconic films, Confessions of a Teenage Drama Queen tells a story of teenager Lola who struggles moving from New York to suburban New Jersey. Wearing a fishnet top with hoop earrings and rocking a bohemian look on her bike ride to school are some of the highlight looks.
Mean Girls (2004)
"You can't sit with us," "On Wednesdays we wear pink…" and the list goes on for the most iconic moments of 2004 film Mean Girls. Featuring some of today's biggest stars like Lindsay Lohan, Rachel McAdams and Amanda Seyfried as the Plastics, the movie was a style pioneer in the early '00s with pieces like pleated miniskirts, high heels, Converse shoes and more.
She's the Man (2006)
She's The Man broke some big gender roles with Viola Hastings, played by Amanda Bynes, dressing up as her twin brother Sebastian to play on the soccer team. From girly moments at the pageant to tomboy styles in baggy tees, jeans and hoodies, the movie definitely shows some of the most popular styles of the decade.
13 Going on 30 (2004)
Teenager Jenna Rink, played by Jennifer Garner, fulfills her dream to become a big-time fashion magazine editor after receiving magic dust as a birthday gift from her bestie Matty, played by Mark Ruffalo. Jenna sports some major styles like a silky slip dress when she wakes up as a 30 year-old for the first time, and a color-blocked cocktail dress at a party where she dances to Michael Jackson's "Thriller."
The Devil Wears Prada (2006)
Finishing off the list is The Devil Wears Prada, still a favorite to many fashion lovers. A character based on Vogue editor-in-chief Anna Wintour, Meryl Streep plays the role of Miranda Priestly who hires journalist Andy (Anne Hathaway) to take on an intensive, fast-paced fashion job as her secretary. One of the best scenes of the film is when Nigel gives Andy a makeover, dressing her in designers like Chanel, Dolce & Gabbana (which she does not know how to spell), Jimmy Choo, Manolo Blahnik, Narciso Rodriguez and more.
Click here to view full gallery at HYPEBAE