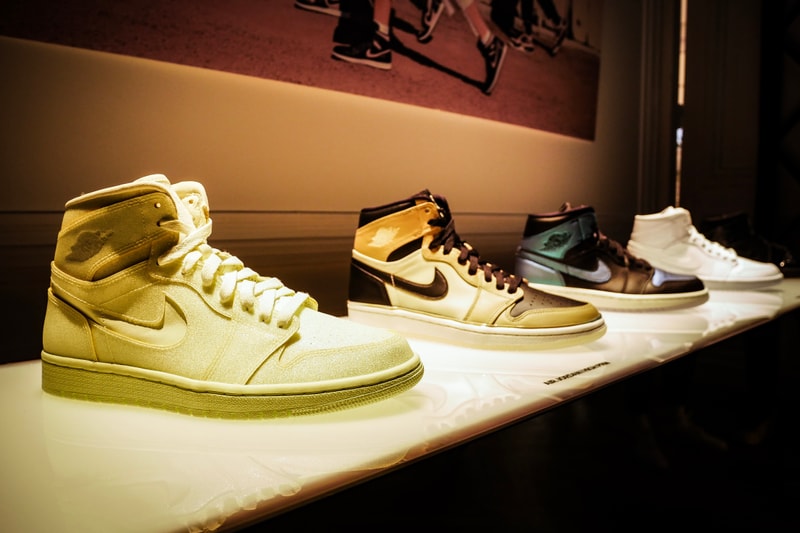 Last year, Nike released "The 1: Reimagined" series which included several iterations of the Air Force 1 and the Air Jordan 1, and this year the Swoosh is putting a big focus on more women's sneakers when it comes to Jordan Brand. For Fall/Winter 2019, the label is releasing a handful of new silhouettes ranging from classic the classic 1's to new re-imagined silhouettes like the Air Jordan Nova and the Jordan Air Latitude 720.
We got to preview the upcoming drops at Nike's event in Paris, where we also got the opportunity to chat with Louisa Page, Nike's design director for women's footwear. The whole collection sees innovative takes on some of the most iconic silhouettes, and features reworked sneakers and new designs that are created with women as the sole focus. Like Page said, "There are no rules, you can wear what ever you want . It is limitless."
Take a look at the silhouettes dropping for Fall/Winter 2019 in the gallery above, and read our exclusive interview with Louisa Page below.
Hanadi Mostefa/HYPEBEAST FR
Nike
Nike
How did you decide which Jordan silhouettes to include in the Fall/Winter 2019 collection?
We're always looking at the latest innovation coming out, as well as the heritage of our brand and try our best to merge the two. For this collection it was the Air Max 720 Air unit, and that's the one we decided to go with. We always look at all the tools we have at hand to create a silhouette, and that's how the collection came about
As a designer, you're an observer. I always love looking at women's closets, seeing what they're wearing, seeing which shoes the women are wearing and which ones are at the back of the closet. We try to dig deep to find out what they really want as well as what they're passionate about.
Traditionally, there's been a big difference in products for men and women, and all women are of course different – is it the same when it comes to footwear?
There's definitely a space where unisex product comes in, and everyone wants it. What's unique in women's footwear, there's been high heels forever, and they've been very female-specific. As we're getting more into sneaker culture for women, we're looking at the history of shoes and the shapes we've seen, the heights and proportions that are unique to women that we are looking out for. Shoes aren't as defined as apparel when it comes to "physical needs," so creating sneakers you have the opportunity to create great things because you can pull from both women's shoes and men's shoes. Part of that is taking classic silhouettes and re-imagining them with new colors, materials and designs.
Why is important to create more Jordan Brand sneakers for women?
Because she's asking for it.
What has been your relationship with Jordan Brand?
I've been at Jordan and at Nike for the past three years, and in the industry for much longer than that. As a kid, my brother used to wear Jordans so they've always been a part of my life, and I love being here now being to design this collection for the brand.
Can you describe the collection in three words?
I'm a designer, so three pictures would have been easier. But my three words would be: Innovative, re-imagined and uniquely for her.
When you say "re-imagined," what does that mean?
We're taking heritage silhouettes and creating new visions from it. A good example of this is the new Nova silhouette, which we've created after hearing that women were looking for a comfortable shoe that didn't have to be laced. Therefore we played around with the Air Jordan 1 silhouette, and re-imagined it into a new design which doesn't feature the signature lacing like the classics.
Click here to view full gallery at HYPEBAE