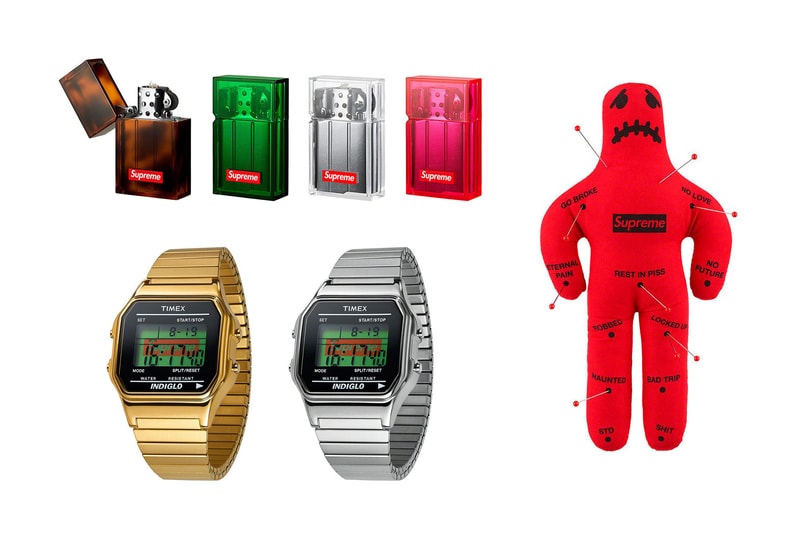 This week's drop round-up sees the return of Supreme for Fall/Winter 2019. The seasonal intermission from the streetwear staple has helped make this release that much more special, opening with a bang — totaling almost 70 new products.
Elsewhere, PLEASURES continues its cynical jab at modern-day issues — evoking a deeper message through bold graphics and slogans across T-shirts, outwear, and pants. C2H4 continues its journey into the future with a "Post Human Era" collection release, this time experimenting with technical fabrics, but under a minimalistic theme. Collaborations this week arrive in the form of Virgil Abloh's MCA Chicago "Figures of Speech" range of apparel, the YSTRDY'S TMRRW x LEE "BAGGY" denim capsule, and Nobuyoshi Araki's photoprint collection with uniform experiment.
Key items this week are the Supreme x Tsubota lighters, the Mary J. Blige tee, Supreme PYREX measuring cup, Palace's Tactic T-shirt, PLEASURES' SPIKE cactus hoodie, and Off-White™'s Caravaggio homage hoodie.
Supreme Fall 2019 Collection Week 1
Supreme returns in a big way, releasing almost 70 new products for its first drop of Fall/Winter 2019. Covering all bases, this drop sees outerwear, knits and sweaters, long sleeves, T-shirts, buttons-ups and a host of accessories in the form of bags, pouches, and hats.
The drop gets a running start with big-name collaborative releases like the Schott leather jacket featuring the 8-ball artwork of Martin Wong, the Supreme is Love denim jacket, the Mary J. Blige T-shirt, PYREX measuring cup, and the Timex digital watch. Included in this drop are a number of affordable options starting in the $20 – $30 USD range like the Hanes socks and boxer briefs, and even the Voodoo Doll at $28 USD. The only thing to cross over the realm of $500 USD is the leather 8-ball jacket at $798 USD.
Supreme fans stay tuned as this is just the first drop of many for Fall/Winter 2019.
When: August 22
Where: Supreme Online & Retail Stores in NY, Brooklyn, London, France & Japan
Palace Fall 2019 Collection Week 3
Palace's third drop goes heavy in layering pieces for the Fall/Winter 2019 season. The collection sees an array of T-shirts, hoodies, windbreaker jackets, and hats.
Key items to look out for mainly arrive in the graphic tee department, with the "Ping" T-Shirt, the "Tactic" tee, and the "Sound Mate." There is also a sportiness to this release most noticeably in the colorful light jackets with matching shorts, along with the technical 6-panel caps.
When: August 23
Where: Palace Online & Retail Stores in London, New York, Los Angeles & Japan
PLEASURES "Information Overload" Collection
Returning for FW19, PLEASURES recently unveiled its latest assemblage of streetwear garments accented by an array of bold graphics and bright patterns. Titled "Information Overload," the range is dominated by a bevy of loose-fitting styles that come in the form of ski-jackets, coach jackets, hoodies, crewneck sweaters, cardigans, and flannels.
Diamond checks, plaids, paisleys, glittery stripes, and tartan patterns are expressed across a range of garments, while more casual pieces like a pink sweatsuit and a series of graphic T-shirts stay true to the label's street sensibility. Standouts include a light blue sherpa zip-up jacket, nylon pants, pigment-dyed shirts, short-sleeved button-ups, and cardigans.
When: Now
Where: pleasuresnow.com
MCA Virgil Abloh "Figures of Speech" Apparel
Adding to the ongoing apparel drops for Virgil Abloh's "Figures of Speech" exhibition, MCA Chicago has dropped another selection of art-focused goods.
The latest drop features a variety of Renaissance art emblazoned pieces which include an ode to PYREX VISION's Caravaggio pieces, as well as a new take on Off-White™'s Mona Lisa and Bernini hoodies and T-shirts. Other notable releases include a lightweight anorak featuring the brand's "Figures of Speech" themed arrow logo, socks toting "You Cut Me Off" in red typography, and a red tote bag that remains a flippant take on exaggerated statements.
When: Now
Where: MCA Web Store
C2H4 "Post Human Era" Collection
Following a debut at London Men's Fashion Week Spring/Summer 2020, C2H4 has now released the first drop of its C2H4 "Case #R001" collection. Continuing the pervasive themes tied to the Los Angeles-based label, the seasonal range explores the boundaries of human enhancement technologies and the future of human consciousness through an imaginary social class system.
The collection creates afictional universe in which time and memory — two objective realities — turn into scalable and transferable measurements of the new social classes. The first drop features oversized metallic jackets, collared shirts with conceptual prints, reflective track jackets, distressed sweatshirts, windbreakers and neck card pouches. The three social classes of the new universe are showcased in the first drop, with the minimalist designs of the "Elite Class" used to represent their already achieved "immortality" and equanimous approach to life. While the "HDS Staff" are the working class of the new world defined by retro-sporty looks, informed by color clashes. The garments of the "Underclass" feature a faded-wash and unique distressing.
When: Now
Where: C2H4 Web Store
Nobuyoshi Araki x uniform experiment Collection
uniform experiment recently teamed up with Japanese photographer and contemporary artist Nobuyoshi Araki for a polaroid-inspired collection.
The collection is comprised of hoodies, crewnecks, shirts and bandanas emblazoned with polaroid graphics of flowers with Akari x uniform experiment co-branding at the rear. The photos depict single shots or bouquets of flowers, such as sunflowers, roses, and hibiscuses taken from Araki's expansive body of work.
When: Now
Where: SOPH. Web Store
Fear of God Camo Print Drop
Fear of God introduces an artistic take on the camouflage pattern. Incorporating bright colors and a high level of detail not often found in camo, each piece appears to resemble that of a painting.
The "Prairie Ghost Camo" makes its way onto two silhouettes; the button-down shirt, a functional shirt inspired by military attire, but with an elevated presence as a result of the floral camo pattern; and the pants, this pair of pants sees a dark version of the Prairie Ghost Camo which takes the shape of a more traditional woodland camo thanks to its green, brown, and white tones.
When: Now
Where: SSENSE
YSTRDY'S TMRRW x LEE "BAGGY" Denim Capsule
YSTRDY'S TMRRW's head designer, Kazuya Sugano, channels his love for oversized clothing for a collection of baggy workwear that is both aged in appearance yet highly refined. Choosing a color palette based off of classic bandanas found at thrift shops, black, red, blue and white makes its way onto a jacket and a pair of painter pants.
While the collection looks like it would be unwearable to normal individuals, each piece features resized lengths to make sure the clothing looks baggy but remains comfortably secure on the body.
When: Now
Where: COVERCHORD
Click here to view full gallery at HYPEBEAST