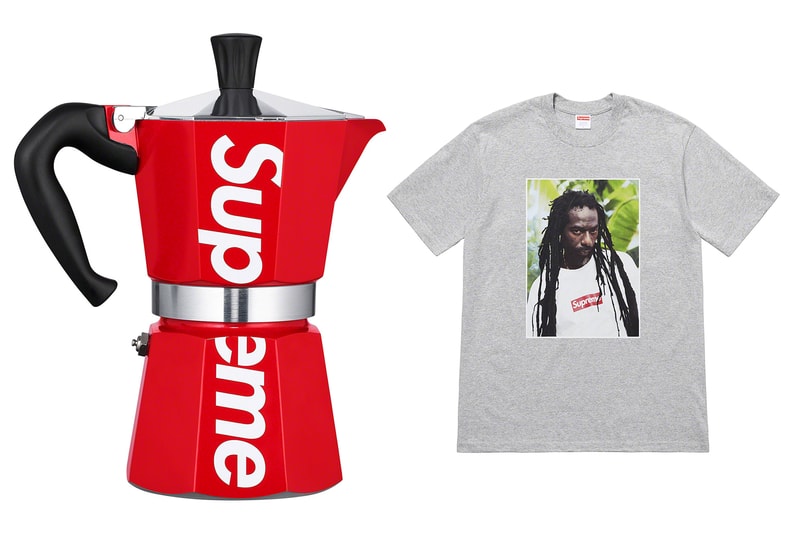 With another week, we have another installment of our product drops series this time marked by Supreme's Spring/Summer 2019 Week 18 release. This week's drop is led by the New York skate brand's Summer 2019 graphic T-shirt release which features a collaboration with Jamaican music icon Buju Banton. Aside from Supreme's Week 18 Drop, this week we have an impressive array of special releases and collaborations that make up a selection of must-have street staples.
Standout collaborations this week come from National Geographic and Element, Paris Saint-Germain and Jordan Brand, along with another Vinyl Middle Finger collectible from HUF and Japanese artist Haroshi. Saint Laurent also teamed up YEVO and Happy Plugs to celebrate the opening of its Rive Droite concept stores in Paris and Los Angeles, Jean Pigozzi and Leica crafted the limited edition "Urban Jungle CL camera and Shepard Fairey collaborated with graffiti exhibition BEYOND THE STREETS on three graphic-heavy Montana spray paint cans to celebrate the 30th anniversary of OBEY. Finally, Drew House has prepped its latest release of 2019 with a sunny California suburb set lookbook.
Key items this week include Supreme's Buju Banton artist photo T-shirt, the Saint Laurent x YEVO Air True Wireless Bluetooth Earphones and the HUF x Haroshi Vinyl Middle Finger in "Hot Pink."
National Geographic x Element Capsule
Looking to raise awareness for the natural world, National Geographic has teamed up with skate brand Element for a graphic-heavy capsule.
Joining forces, the duo have mashed up Nat Geo's archive of nature imagery with Element's iconic motifs. Scenes of animals and the elements of wind, water, fire and Earth have been utilized to create a comprehensive collection of skate accessories and apparel. Comprised of skate decks, wheels, grip tape, T-shirts and crewnecks, the capsule spotlights stunning portraits of various animals like sharks, eagles, snakes, hares and lions, coupled with skate legends like Brandon Westgate, Evan Smith, Greyson Fletcher, Madars Apse, Nyjah Huston, Julian Davidson and Tom Schaar.
When: Now
Where: Element
Saint Laurent x YEVO/Happy Plugs
Continuing to celebrate the opening of its Rive Droite concept stores in Paris and Los Angeles, Saint Laurent has teamed up with tech peripheral purveyors YEVO and Happy Plugs.
Centered around tones and patterns associated with the French luxury fashion house, Happy Plugs crafted a selection of Wired Earphones and Lightning Charging Cables marked with simple "SAINT LAURENT" branding or full zebra and cheetah prints.
The collaboration with YEVO resulted in a series of Air True Wireless Bluetooth Earphones done in matte black with black, silver and gold trim options. Designed to express the look of luxury tech accessories, the sweat and dust-resistant audio options utilize Bluetooth 4.2 for a reliable audio experience with microphone and remote functionality. Compatible with Android, iOS, OSX and Windows, the earphones feature 14 hours of playback when paired with the accompanying co-branded charging case.
When: Now
Where: ysl.com & Saint Laurent Rive Droite Paris/Los Angeles
Paris Saint-Germain x Jordan Brand
After a series of looks, Paris Saint-Germain and Jordan Brand have now delivered the first releases of their highly-anticipated capsule.
Teasing the upcoming release of the Air Jordan 6, Air Jordan 1, Jordan Mars 270 and Jordan Havoc React, the inaugural drop features a track jacket, hoodie, T-shirts, basketball shorts and a cap. Each piece is decorated with PSG and Jumpman branding and dressed in the iconic colors of the classic "Infrared" color scheme.
When: Now
Where: store.psg.fr
Jean Pigozzi x Leica CL "Urban Jungle"
Photographer, art collector and philanthropist Jean Pigozzi has reunited with Leica to craft a limited edition CL camera.
Limited to 150 units, the camo-covered "Urban Jungle" camera features an APS-C CMOS sensor at 24 megapixels, a maximum ISO of 50,000, 4K video recording capabilities, a 49-point autofocus system, and built-in WiFi. Keeping the camera light and compact, Leica has mounted on an Elmarit-TL 18mm f/2.8 ASPH  lens. The exterior is wrapped in a Pigozzi-designed black and white camo-patterned leather and comes complete with a special grey carrying strap.
When: Now
Where: Leica
OBEY Giant x BEYOND THE STREETS x Montana Colors 30th Anniversay Limited Edition Cans
To celebrate the 30th anniversary of OBEY, Shepard Fairey collaborated with graffiti exhibition BEYOND THE STREETS on three graphic-heavy spray paint cans. Each of the Montana spray cans have been decorated with Fairey's iconic prints, "Lotus Blue," "Cut It Up" and "Target." Additionally, each can comes encased in a wooden box which can be used as a display unit.
According to Fairey, "I've been using Montana spray paint for many years because it gives the best performance and durability of all the paint brands that I've tried out. When I was younger, and I was doing things very spontaneously, I wasn't thinking about longevity, but even for an ephemeral art form like street art or graffiti, I think we all want paint to stand the test of time as much as possible." He concludes: "It's very meta – the can that makes the art, that ends up on the can."
When: Now
Where: BEYOND THE STREETS
HUF x Haroshi Vinyl Middle Finger "Hot Pink"
HUF and Japanese artist Haroshi have come together once again on a bright new take on their collaborative Vinyl Middle Finger collectible.
Limited to 50 pieces, the latest "Hot Pink" colorway serves as the third iteration from the duo. Originally crafted in 2015, the form of the vinyl collectible is an exact replica of HUF founder Keith Hufnagel's middle finger. Haroshi meticulously measured and took detailed photographs to cast an accurate mold for the first edition of the art piece.
When: June 27
Where: HUF Los Angeles
Supreme Spring/Summer 2019 Collection Drop 18

7

Back with its latest SS19 release, Supreme has prepared a special Summer T-shirt release to go along with Drop 18. Teased earlier this week, the Summer 2019 graphic T-shirt range is led by an artist photo collaboration with Jamaican music icon Buju Banton.
Another graphic piece created in collaboration with Banton, a spotlight on Josh Smith's No Words for Feelings, 2017, oil on canvas artwork and an altered take on a recognizable scene from Tod Browning's 1931 classic Dracula are also found in the release. Other graphics offerings include a "GREETINGS FROM SUPREME" New York retrospective shirt and a collage style '40s ad T-shirt. Finally, some more playful options in the form of an illustrated Supreme Shears T-shirt and a Twin Firecracker T-shirt finish up Supreme's Summer 2019 T-Shirts release.
The accompanying Drop 18 range also features the branding marked Foulard Polos, colorful Knit Stripe Tank Tops, plush Terry Jacquard Logo shorts and all over print Grand Prix Camp Cap. This week's accessories come in the form of a boldly branded Bialetti Moka Express, Motherfucker Towelmatching keychain and Shears Skate Decks.
When: June 27
Where: Supreme Online & Retail Stores in NY, Brooklyn, London, France & Japan
Drew House 2019 Collection
Returning with its latest release of the year, Drew House recently unveiled its upcoming drop with a lookbook set in the sunny Californian suburbs.
Carving out its casual aesthetic, the upcoming assemblage of is led by staples like T-shirts, hoodies, crewnecks, pants and shorts. Accompanying button-ups, trousers, shorts and hoodies are made from soft brown corduroy and cotton – crafted in limited quantities using ethical garment-washing and dyeing process for a unique texture. Other notable items include black and yellow hoodies with smiley-face branding, a high-collar long-sleeve and graphic T-shirts.
When: June 28
Where: HBX
Click here to view full gallery at HYPEBEAST