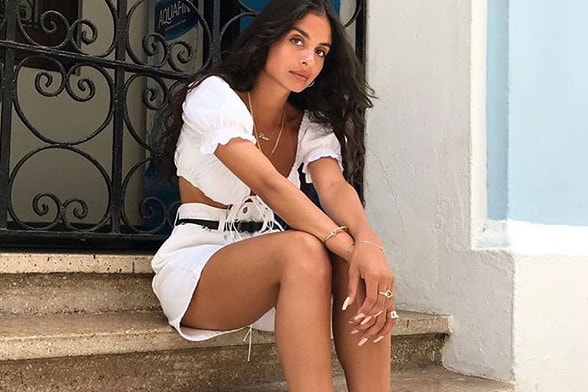 The VSCO girl trend is pretty much taking over everyone's Instagram feeds. If you're constantly oversharing your life on TikTok, Twitter and YouTube you might just be one yourself. Whether you're into the aesthetic or not, there's proof that it's everywhere.
To help you get a better understanding of the aesthetic, we've rounded up simple basics the VSCO girl is into. In particular, Levi's Wedgie Icon Fit High Waist jeans and Vans' Slip-On checkerboard sneakers are definitely trending right now. Also currently having a moment are crop tops, the Fjällräven Kånken Water Resistant Backpack and of course '90s-inspired scrunchies.
Keep scrolling to get an idea of what you need in your wardrobe to dress like a VSCO girl.
Fashion
[shoppable brand="Topshop" product="Sasha Scallop Crop Camisole" link="https://shop.nordstrom.com/s/topshop-sasha-scallop-crop-camisole/5368177" store="Nordstrom" price="$12 USD"]
[/shoppable]
[shoppable brand="Reformation" product="Hart Off-The-Shoulder Linen Wrap Top" link="https://www.net-a-porter.com/us/en/product/1192181/Reformation/hart-off-the-shoulder-linen-wrap-top" store="Net-a-Porter" price="$150 USD"]
[/shoppable]
[shoppable brand="Levi's" product="Wedgie Icon Fit High Waist Ankle Jeans" link="https://shop.nordstrom.com/s/levis-wedgie-icon-fit-high-waist-ankle-jeans-bright-side/5126478" store="Nordstrom" price="$98 USD"]
[/shoppable]
[shoppable brand="Levi's" product="Blue High Rise 501 Shorts" link="https://www.ssense.com/en-us/women/product/levis/blue-high-rise-501-shorts/4017041" store="SSENSE" price="$70 USD"]
[/shoppable]
Sneakers
[shoppable brand="Nike" product="Air Force 1 '07 Sneakers" link="https://www.ssense.com/en-us/women/product/nike/white-air-force-1-07-sneakers/3757339" store="SSENSE" price="$110 USD"]
[/shoppable]
[shoppable brand="Vans" product="Classic Slip-On Sneaker" link="https://shop.nordstrom.com/s/vans-classic-sneaker-women/5416988" store="Nordstrom" price="$49.95 USD"]
[/shoppable]
Accessories
[shoppable brand="Fjällräven" product="Kånken Water Resistant Backpack" link="https://shop.nordstrom.com/s/fjallraven-kanken-water-resistant-backpack/3833666" store="Nordstrom" price="$80 USD"]
[/shoppable]
[shoppable brand="Tasha" product="2-Pack Scrunchies" link="https://shop.nordstrom.com/s/tasha-2-pack-scrunchies/5224587" store="Nordstrom" price="$18 USD"]
[/shoppable]
Click here to view full gallery at HYPEBAE