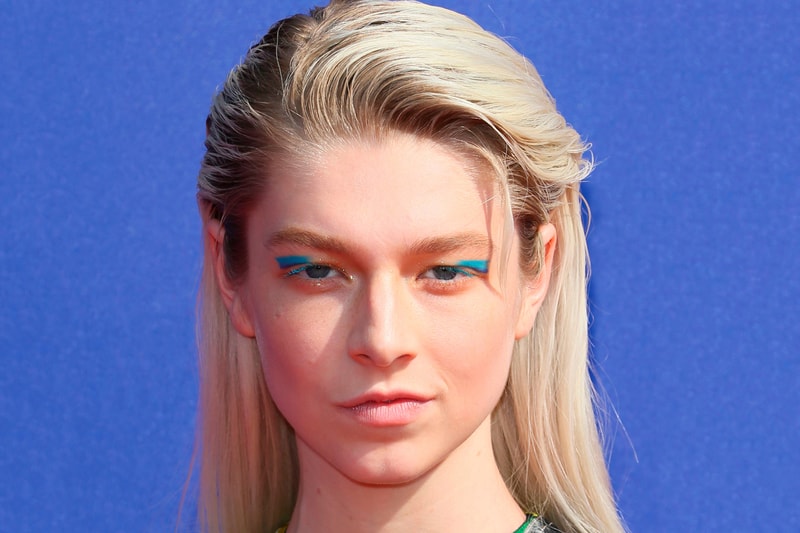 Everyone is talking about HBO's new show Euphoria, not solely because of its lead actress Zendaya. Another breakout star from the series is the 20-year-old trans actress Hunter Schafer. If you've tuned into the first four episodes, you've probably fallen for Schafer's soft-spoken character Jules who typically wears pastel, vintage-inspired looks. Jules fits right in amongst the alcohol-ridden parties, teenage friendships, and the honest portrayal of Generation Z.
Her compelling characteristics are evident in the pilot episode in which viewers catch a glimpse into her interesting high school life with her father and her new friend Rue (Zendaya). The show continues to dig deeper into Jules' past: her transition, her life with her mother and her current dating app obsession which is also a bit dangerous.
If you're wondering what led to Schafer landing her current role, keep scrolling to read five things you should know about the budding actress.
1. Euphoria is her first-ever acting role.
According to The New York Times, Euphoria is the Raleigh, North Carolina native's first acting gig. She actually tried out for the role after hearing about an open casting call, as reported by Who What Wear. In the New York Times feature interview, she shares:
"I feel so lucky to have "Euphoria" as a first experience with taking on a character and exploring acting, and in having this group of people as well. I couldn't be happier about the situation, and so whatever people are calling me is just the cherry on top."
2. She is an LGBTQ+ advocate.
As a high school student, she was a plaintiff in the American Civil Liberties Union's 2016 lawsuit against North Carolina House Bill 2. The bill "required people to use the restroom for the gender they were assigned at birth," as reported by The New York Times. In a personal essay for Teen Vogue, Schafer wrote:
"It's a devastating piece of legislation that also banned anti-discrimination protections for the state's entire LGBTQ community. After detractors criticized Governor Pat McCrory for signing such a discriminatory bill, he said the restroom part of it was just 'common sense.' Except it doesn't make sense to invalidate my identity and put me in possible danger by forcing me to use the men's restroom. I was appalled and desperately wanted to fight back. A few weeks after the bill passed, I joined a lawsuit filed by the American Civil Liberties Union, Lambda Legal, and several other plaintiffs challenging HB2."
3. She also transitioned in high school similar to her character Jules.
In addition to sharing insight on her experience acting in the show Euphoria, Schafer expressed that she transitioned early in high school. In the New York Times feature, she expanded on this by noting that transitioning while in public school was a "pretty intense experience." She later shared that she knew she could bring pieces of herself to the role of Jules due to her and the character's similarities. When discussing her character, Hunter later said:
"But I think one of Jules's main battles is her desire for romance and normalcy and love, which I think she's kind of locked down a routine as far as getting some form of that. But of course it's not healthy, and I can relate to that point in my life. I didn't act out on it, but I certainly desired to be treated a certain way in order to affirm my femininity."
4. She was a model in New York City prior to landing her new role.
Before landing her role in Euphoria, Schafer modeled for Versus Versace, Helmut Lang, R13, Vogue Japan and i-D while living in New York City, according to Teen Vogue. Back in 2017, she landed on the publication's 21 under 21 list. More of her recent modeling gigs have included landing covers for Dazed and Paper.
In a feature with W, she expanded on moving out of the fashion industry:
"Since it's no longer my singular source of income, I've withdrawn from fashion spaces a bit. However, I still have a deep love for fashion and want to continue to work with designers and houses that inspire me—like Rick Owens, whose show I would no doubt walk in again if the opportunity arose. But long term, I would love to collaborate with my fashion idols more than anything else."
5. She's an artist.
 

View this post on Instagram

 

A post shared by Hunter Schafer (@hunterschafer) on
If you scroll through Schafer's Instagram profile, you'll notice that she occasionally shares hand-drawn artwork. In a post from December, she shared that the first publication her artwork was featured in was the now-defunct Rookie magazine founded by writer Tavi Gevinson. If you continue scrolling through her Instagram you'll come across a self portrait, an acrylic work, a part of a comic she drew, sketches and more.
Click here to view full gallery at HYPEBAE