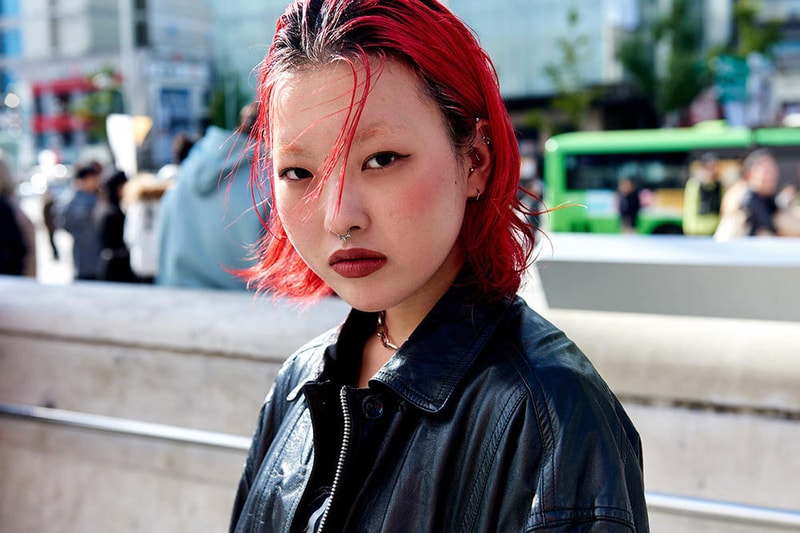 K-beauty has extended from a 15-minute trend into a full blown movement. Korean skincare has long been ahead of the curve and now we see a surge forward with new makeup. During Seoul Fashion Week, we got a chance to see what the city's best-dressed people were wearing on their bodies and on their faces. We see women embracing more natural skin looks while men join in on the contour/bronzing fad. Among these techniques are a handful of other makeup tricks that will help ladies transition from winter to spring. We selected items from our favorite brands to help recreate these profiles for the warm weather.
Read on to learn more about the top five K-beauty makeup trends of 2019.
Colorful Eyeliner
ColourPop
ColourPop BFF Liquid Liner, available at ColourPop for $8 USD
Not everyone has the time for a full-out cut-crease eyeshadow look. Sliding on a colorful eyeliner allows you to add angles to your face that didn't exist before. It also can serve as an accessory to a monochrome outfit or subdued look. Our pick for this season is the new affordable eyeliner from ColourPop. Another great option is Too Faced's Sketch Marker Liquid Art eyeliner ($20 USD).
"Fruit-Juice" Lips
Glossier Play
LANCÔME Juicy Shaker Lip Oil, available at Nordstrom for $22 USD
"Fruit juice" or "vitamin C" lips are the super-glossy pouts you've probably seen all over social media. Women careful choose a lip product that delivers shine and a healthy dose of color to create a stunning gradient. The result is a luscious lip that appears soft and has endless dimension. Clarins has an expansive selection of hues for its Instant Light Lip Comfort Oil ($26 USD) which plumps the lips and gets rid of dryness.
Glass Skin
Seunghoon Jeong/HYPEBEAST KR 
Laneige BB Cushion Pore Blur, available at Sephora for $38 USD
"Glass skin" is the illusion of having poreless and filter-like smooth skin. Most beauty lovers believe that achieving glass skin begins with skincare and we couldn't agree more. For those who wish to create an even layer of soft, skin-like coverage should check out the ever-expanding market of cushion foundations. Brands are slowly beginning to adopt the technology which allows for women to gently push product into their skin. Amorepacific's Color Control Cushion Compact ($60 USD) comes equipped with SPF 50 allowing for you to be protected from the sun while letting your skin glow.
Glitter Eyelids
Seher Yuzgecer/EyeEm/Getty
Glossier Play Gelée, available at Glossier for $14 USD
Glitter eyeshadow looks are another great alternative for those who have limited time to play in makeup. Adding shimmer to the lids instant brightens your face and provides a festive element for your look. Products like Stila's Glitter & Glow Liquid eyeshadow ($24 USD) are super-pigmented and can be swiped right onto the eye with the help of a wand.
Undereye Blush
Seunghoon Jeong/HYPEBEAST KR 
3CE Dual Blend Blusher, available at Stylenanda for $24 USD
Blush is a seriously underrated makeup item that everyone needs to know more about. The '80s trend of applying blush all over your cheeks is thankfully over. Talented makeup artists have found strategical areas on the face where color can be applied to create the illusion of youth and vibrancy. Korean beauty lovers have been applying blush just beneath the eye to draw focus to the center of the face. The key is finding a blush that complements your skin and natural flush tones. If you need a product that offers a few hues to find the one for you, try out Jouer's Bouquet D'Amour Six Shade Blush Palette ($42 USD).
Click here to view full gallery at HYPEBAE