lol6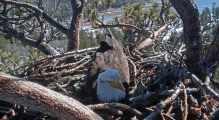 Egg-citing news from the Big Bear area — an eagle chick is due to hatch within a few weeks. You can get a live and close-up at the daily ups and downs of eagle parenting in the San Benardino Mountains.
Photo Credit: Friends of Big Bear Valley
This story uses functionality that may not work in our app. Click here to open the story in your web browser.
Source: NBC Southern California – Southern California News – JONATHAN LLOYD