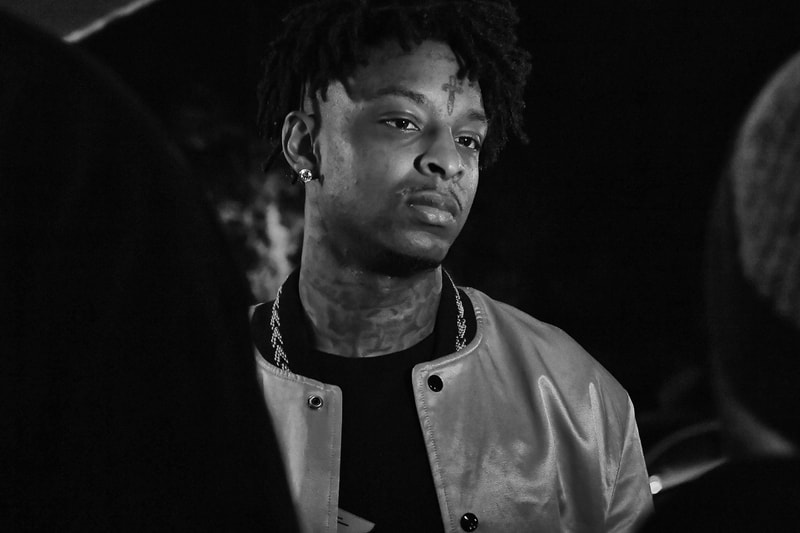 Following a teaser, Good Morning America has now released the full video interview between 21 Savage and ABC news correspondent Lindsey Davis. The pair's discussion, including statements from the rapper's legal team, reveals further details surrounding his U.S. Immigration and Customs Enforcement (ICE) arrest on February 3. "I was just driving, and I just seen [sic] guns and blue lights. And then I was in the back of a car, and I was gone," he told Davis following his release on bond this past Tuesday. "They didn't say nothing. They just said, 'We got Savage,'" he added.
One of 21 Savage's attornies, Dina LaPolt, made an appearance on GMA to discuss his current situation. "We are in the middle of securing his immigration status, so where's a citizen, but it's very, very complicated, and there's a lot of steps that we have to go through." The lawyer that JAY-Z hired for the rapper, Alex Spiro, added that ICE is ostensibly exploiting the rapper's celebrity status among other things. "We believe, honestly, that he was targeted—of course, like they said—and part of the reason, we think, is both because he's a celebrity, and they can use this as a way to send a message, and also, perhaps, because of his music," said Spiro.
On his behalf, the rapper's legal team released a statement this week. "He will not forget this ordeal or any of the other fathers, sons, family members, and faceless people, he was locked up with or that remain unjustly incarcerated across the country," the statement reads. "And he asks for your hearts and minds to be with them."
Full video interview, below.
Born Sha Yaa Bin Abraham-Joseph, the Grammy nominee originally shocked fans who believed he was a United States Citizen — he told XXL in a 2016 interview that he was from Decatur, Georgia. His February arrest made headlines after ICE officials stated that the 26-year-old talent is a British national and was brought stateside illegally as a child in 2005. Not to mention, his visa expired the year following. 
In the GMA interview, the rapper said that he was seven-years-old when he arrived in the U.S. in 2005 and returned to the United Kingdom to attend his uncle's funeral. He went back to the U.S. that same year.
"So it's like, even if I'm sitting in a cell on 23-hour lockdown, in my mind, I know what's going to come after that,"  said 21 Savage to GMA as he faces deportation proceedings. "So I'm not happy about it. But I'm accepting of it."
Stay tuned for updates surrounding the case.
Click here to view full gallery at HYPEBEAST