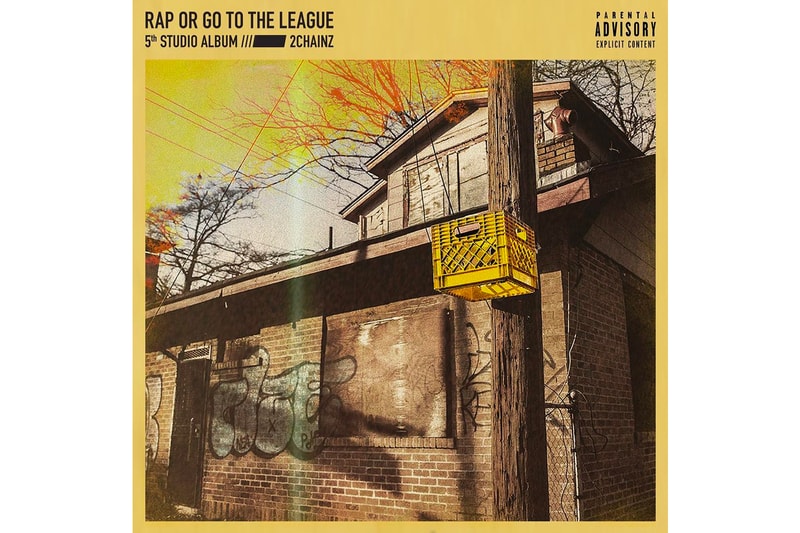 Rap or Go to the League is slated to drop this week, and just ahead of the project's arrival, rapper 2 Chainz has decided to personally share the artwork for the anticipated album.
Shared on his IG account, the album's cover features an abandoned graffitied house complete with a makeshift milk crate basketball hoop attached to what looks like a light post. Rap or Go to the League follow's 2017's Pretty Girls Like Trap Music and will mark 2 Chainz's fifth studio album to date. Along with sharing the album's cover, 2 Chainz posted a video of him and LeBron James working hard in the studio with the caption, "Friday can't get here fast enough."
Leading up to the project's release, 2 Chainz called out Nike for essentially ripping off the cover art from his Pretty Girls Like Trap Music for the Swoosh's recent Valentine's Day-themed Zoom Fly SP designed by Nathan Bell. "I'm happy I could influence you guys to make this shoe based off my last album #prettygirlsliketrapmusic!," 2 Chainz wrote in his post. "I met a few really good and cool [Nike] reps in Charlotte this past weekend and looking forward to speaking to someone soon about this!"
Look for Rap or Go to the League to land this Friday, March 1 which includes LeBron James serving as A&R.
Click here to view full gallery at HYPEBEAST