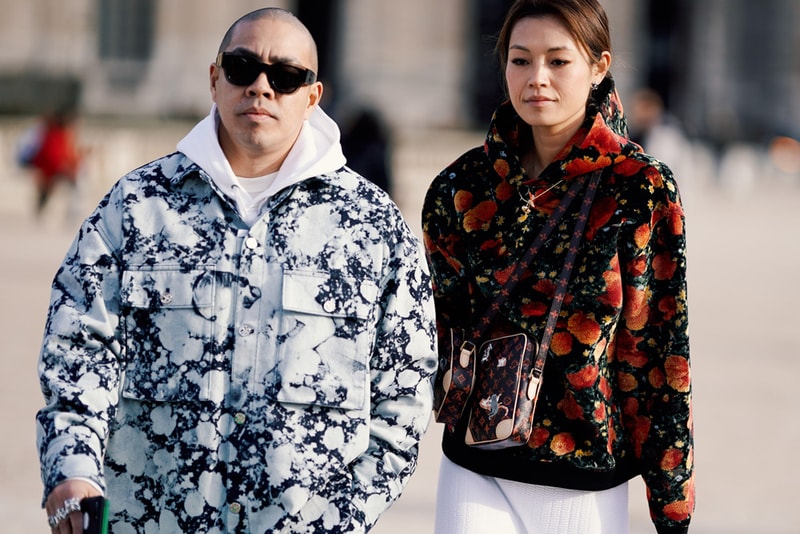 The tie-dye effect is in full-force this season, as the '80s influence continued to find its way into collections high and low for Spring/Summer 2019. Since the psychedelic trend began seeping into runways over a year ago, vibrant and flashy tie-dye pieces have inundated the market across every category from T-shirts to bags. As expected, the most literal, rainbow-colored styles have saturated the market, but some designers have eschewed tradition in lieu of more muted and digestible options.
Take for example Palm Angels, whose cotton short set features a tie-dye pattern bold enough to make a statement, while a monochromatic palette still fits the brand's refined streetwear aesthetic. On the other end of the spectrum, labels like The Elder Statesman are experimenting with bold colors softened by pastel shades.
Others like LOEWE, Stella McCartney and John Elliott have taken the streamlined approach, relying on a classic grey or simple black base to anchor the trend. Colorblocking and gradient treatments give their designs an elevated look.
Browse through our picks for fresh takes on tie-dye below, from brands such as 99%IS-, Daily Paper, Balenciaga and more.
If luxury sneakers are more on your radar, make sure to check out the best models to elevate your wardrobe this spring.
Palm Angels Tie-Dye Cotton Shorts & T-Shirt
[shoppable brand="Palm Angels" product="Tie-Dye Cotton T-Shirt & Shorts" link="https://www.harveynichols.com/int/brand/palm-angels/318934-grey-tie-dye-cotton-t-shirt/p3434885/" store="Harvey Nichols" price="$275 USD – $345 USD"]
Composition: 100% cotton
Product Details: Grey tie-dye print. Crewneck silhouette on shirt, with logo stamps at front and back. Shorts have elasticated drawstring waist, logo print at front, zip pockets at sides and back.
Buy Now: $275 USD – $345 USD at Harvey Nichols
99%IS- Busik Zip T-Shirt
[shoppable brand="99%IS-" product="Black Busik Zip T-Shirt" link="https://www.ssense.com/en-us/men/product/99-is/black-busik-zip-t-shirt-/4025811" store="SSENSE" price="$395 USD"]
Composition: 100% cotton
Product Details: Black short-sleeved silhouette with rib-knit crewneck collar. Graphics in spray paint-style tie-dye on front and back. Rubberized logo patch at front. Two-way zippered vent on sleeve.
Buy Now: $395 USD at SSENSE
Balenciaga Tie-Dye Jean Jacket
[shoppable brand="Balenciaga" product="Tie-Dye Jean Jacket" link="https://www.neimanmarcus.com/p/balenciaga-mens-tie-dye-jean-jacket-prod217260582?childItemId=NMN5W3W_" store="Neiman Marcus" price="$1,190 USD"]
Composition: 100% Cotton
Product Details: Black, long-sleeved silhouette with white tie-dye detail. Spread collar with button-up front. Side slip pockets. Button-down flap pockets at the chest.
Buy Now: $1,190 USD at Neiman Marcus
Stella McCartney 2001 Tie-Dye Hoodie
[shoppable brand="Stella McCartney" product="Tie-Dye Hoodie" link="https://www.stellamccartney.com/us/stella-mccartney-men/long-sleeved-sweatshirts_cod39968081iq.html#dept=all_stella_products" store="Stella McCartney" price="$865 USD"]
Composition: 100% organic cotton
Product Details: Hooded silhouette with grey tie-dye pattern. Stella McCartney 2001. Logo and kangaroo pocket at front.
Buy Now: $865 USD at Stella McCartney
LOEWE Block Color Tie-Dye Jeans
[shoppable brand="LOEWE" product="Block Color Tie-Dye Jeans" link="https://www.matchesfashion.com/us/products/Loewe-Block-colour-tie-dye-jeans–1254205" store="MATCHESFASHION.com" price="$1,190 USD"]
Composition: 100% cotton
Product Details: Mid-rise, straight leg construction with belt loops and five pockets. Gradient tie-dye design featuring blocks of off-white, yellow, black and turquoise. Suede logo patch at back.
Buy Now: $1,190 USD at MATCHESFASHION.com
John Elliott Oversized Marble-Dye Sweatshirt
[shoppable brand="John Elliott" product="Oversized Marble Dye Sweatshirt" link="https://www.harrods.com/en-gb/john-elliott/oversized-marble-dye-sweatshirt-p000000000006248274" store="Harrods" price="$376 USD"]
Composition: 95% cotton, 5% polyurethane
Product Details: Long-sleeved, crewneck silhouette. Hand-dyed marble tie-dye design in grey and white. Loose fit.
Buy Now: $376 USD at Harrods
Daily Paper "Finem" Tie-Dye Effect Denim Bum Bag
[shoppable brand="Daily Paper" product="Finem Logo Patch Tie-Dye Effect Denim Bum Bag" link="https://www.lanecrawford.com/product/daily-paper/-finem-logo-patch-tie-dye-effect-denim-bum-bag/_/ALR012/product.lc#?selectedImage=2" store="Lane Crawford" price="$95 USD"]
Composition: 100% cotton
Product Details: Blue and white denim tie-dye design. "Maintenance" logo patch at front. Detachable shoulder strap.
Buy Now: $95 USD at Lane Crawford
Issey Miyake Majime Dye-Printed Shirt
[shoppable brand="Issey Miyake" product="Majime Dye-Printed Shirt" link="https://www.brownsfashion.com/shopping/majime-dye-printed-shirt-13245601" store="Browns" price="$572 USD"]
Composition: 100% linen/flax
Product Details: Button-up construction with collar, chest pocket, short sleeves and a concealed front opening. White blocked-print pattern at front.
Buy Now: $572 USD at Browns
The Elder Statesman Tie-Dye Fleece Bomber Jacket
[shoppable brand="The Elder Statesman" product="Tie-Dye Fleece Zipper Bomber Jacket" link="https://www.brownsfashion.com/shopping/tie-dye-fleece-zipper-bomber-jacket-13405159" store="Browns" price="$625 USD"]
[/shoppable]
Composition: 73% cotton, 27% polyester
Product Details: Fleece cotton blend. Bomber-style construction with all-over pink and blue tie-dye pattern. High-neck, zip-up front and long sleeves. Front flap pockets at chest.
Buy Now: $625 USD at Browns
Click here to view full gallery at HYPEBEAST